Details
Introducing the most convenient way on the planet to keep your dog hydrated around town, on the road, or on the trail. This fold-able dog water bottle is the ultimate all-in-one solution for hydrating your pet without the mess or bulk of other bowls and gear.

Simply remove the attached dust shield to reveal the PupCap lick ball water dispenser. Your dog can drink all they want without wasting a drop. Just hold the bottle to your dog's mouth and they can hydrate to their heart's desire.

It's also incredibly portable. The Anti-Bottle stands when full, and once empty you can simply roll it up, stow it away, and keep adventuring together.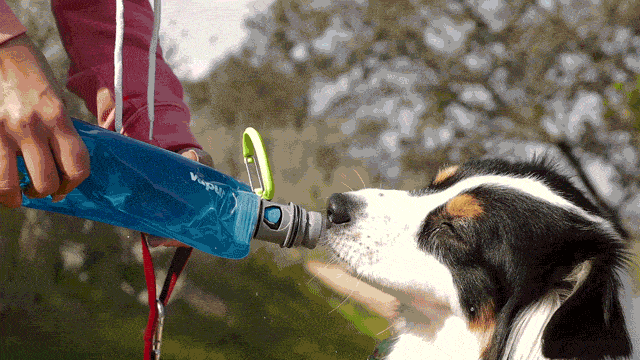 Why we love this product:
PupCap™ - Leak proof, lick ball flow with attached dust shield.
Holds 23 ounces of water.
Ultra Durable BPA-free 3-ply material.
Foldable, portable, and flexible.
Reusable and dishwasher safe.
Wide mouth opening.
Removable PupCap™ by pushing the blue release button and unscrewing the DrinkLink adaptor.
Integrated clip keeps rolled bottles pocket friendly and easy to use and carry.
Available in colours Whiteout or water (blue).